On the southern part of Unter den Linden is Bebelplatz, a large square in Berlin, where the Nazi book burning took place in 1933. It is also home of the State Opera building and the oldest Roman Catholic Church.
The public square, formerly called Opernplatz, is located on the southern end of Unter den Linden Avenue, Berlin's most important artery.
Book burning
The piazza became renowned after the shocking incident that took place on the evening of 10 May 1933.  
The Nazi German Student Association organized a large bonfire in the center of the square where approximately 20,000 books were burned. The books that were burnt were thought to be treasonous and opposed to Nazism, including publications by Karl Marx, Heinrich Heine or Sigmund Freud.
On the site where the books were burned is a glass sheet that covers an empty room with empty bookcases inside. The size of the bookshelves is very significant, as it fits the 20,000 books that were scorched.
The memorial also includes a plaque with a eerie quote from one of Heinrich Heine's plays that says "Where they burn books, they will also burn people". The play was written in 1817, one hundred years before the book burning in Bebelplatz. 
Buildings in Bebelplatz
Bebelplatz is bound by magnificent edifices. It is flanked on the east by the stately Berlin State Opera and on the west by Humboldt University. On the southern side of the square is St. Hedwig's Cathedral, the oldest Roman Catholic church in the city.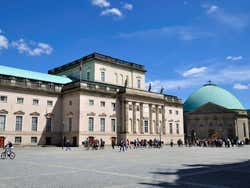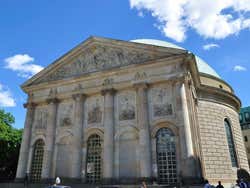 Transport
U-Bahn: Französische Straße, line U6.