Deutsches Historisches Museum in Berlin
The Deutsches Historisches Museum (German Historical Museum) recalls the history of Germany from 100 B.C.E. until the present day. 
The building
The Deutsches Historisches Museum (German History Museum) is housed in the Zeghaus, the old Royal Prussian Armoury in the center of Berlin.
The building is over three hundred years old and the earliest on Unter den Linden Avenue. It is also considered the most prominent Baroque building in Berlin.
The temporary exhibitions of the museum are housed in a new spacious edifice with four floors and a hall made from glass and steel.   
The exhibitions
The permanent exhibit has a unique collection that represents over 2,000 years of German history. The collection has over 7,000 items and is displayed in throughout the museum's 8,000 square meters.
The exhibit is placed chronologically, making it easy for visitors to understand the main events of the last centuries. The museum is divided in the following areas:
First cultures and the Middle Ages (100 B.C.E – 1500).
The Reformation and the Thirty Years' War (1500 – 1650)
The power of the Dynasties and the European Alliances (1650 - 1789)
French Revolution to the Second German Empire (1789 – 1871)
The German Empire to World War I (1871 – 1918)
Weimar Republic (1918 – 1933)
National Socialism and World War II (1933 – 1945)
Germany occupied by the Allied forces (1945 – 1949)
The division of Germany and reunification (1949 – 1994)
The museum offers interesting temporary exhibitions, all housed in the new building.
A history masterclass
The Deutsches Historisches Museum is extremely interesting and full of information. It is the perfect place to learn about the eventful history of Germany, but it might not be very entertaining, especially for a holiday.
It will take at least a few hours to explore the museum and the labels are all in English.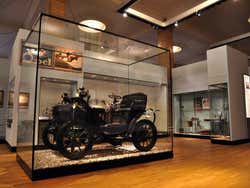 Schedule
Every day from 10 am to 6 pm (until 8 pm on Thursdays) 
Price
Adults: € 8 (US$ 8.70)
Students: € 4 (US$ 4.30)
Youth under 18: free entrance
Berlin Welcome Card: 25% off. 
Transport
U-Bahn: Friedrichstraße or Französische Straße, line U6.
Train: Friedrichstraße, lines S1, S2, S5, S7, S9, S25 and S75.
Bus: M4, M5, M1, 12 and 100.