Checkpoint Charlie Museum in Berlin
The Checkpoint Charlie Museum in Berlin was established to document the Berlin Wall and is dedicated to all the East Germans who tried to escape to West Berlin through Checkpoint Charlie.  
The Checkpoint Charlie Museum (Haus am Checkpoint Charlie in German) was created in 1963 in a two-room flat and the photographs were displayed in a chaotic order. It was founded to document the escapes of East Germans and the tragedies related to the Berlin Wall.
Exhibitions
The museum is packed with photographs, videos and miniatures that show interesting details about how the inhabitants tried to cross the border.
Many citizens managed to escape through Checkpoint Charlie hidden in a Trabant (the most popular East German car). Most hid in the motor or underneath the seat cover.
The collection of items demonstrates how a woman escaped crouched inside a loudspeaker or how another left East Berlin concealed between two surf boards.
In one of the rooms are the remains of a hot air balloon in which two very brave families crossed into West Berlin flying over the border on a homemade hot air balloon.
Even though many managed to breakout of East Germany, countless others were killed in their attempts to cross the checkpoint. Luckily, various guards at Checkpoint Charlie did not comply with the strict orders of shooting the escapees, and let them get to West Berlin.
Chaotic, but full of information
Checkpoint Charlie Museum is packed with interesting photographs and documents that relate an important part of the history of Berlin. Nevertheless, the information on display might be a little too much for such a small space, and it is sometime difficult to follow the thread of the exhibition.
By visiting Checkpoint Charlie Museum, visitors get an idea of the magnitude of the consequences of the construction of the Berlin Wall for the inhabitants of Berlin.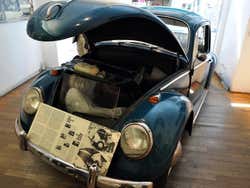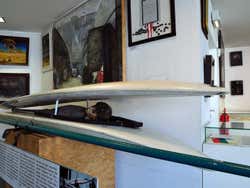 Schedule
Every day from 10 am to 8 pm
Price
Adults: € 17.50 (US$ 18.80)
Students: € 11.50 (US$ 12.40)
Children from 7 to 18: € 9.50 (US$ 10.20)
Children under 6: Free.
Berlín Welcome Card: 25% discount.
Transport
U-Bahn: Kochstraße, line U6.