Berggruen Museum in Berlin
Berggruen Museum is one of the most-visited museums in Berlin. It features over 100 classic works of art by renowned artists like Picasso, Henri Matisse, Paul Klee and Alberto Giacometti.
Housed in a three-story building crowned by a beautiful dome, the museum is very close to Charlottenburg Palace. Opened to the public in 1996, the Berggruen Collection houses masterpieces by Pablo Picasso, Paul Klee, Henri Matisse and Alberto Giacometti, among many others.
Pablo Picasso collection
The highlight of the collection is the work of Pablo Picasso. The museum houses over one hundred paintings and sculptures by the Spanish artist relating his life from when he was an art student in 1897 until 1972, the year before his death.
Visitors will discover the artist's life work and how he evolved, from his Blue Period (1901 – 1904), Rose Period (1904 – 1906), Cubism and the several variations of style during the 1920s.
Other works of art
Berggruen Museum also houses over 60 paintings by Paul Klee that date from 1917 to 1940. They reflect the peculiar poetic world of the artist.
Other renowned artists displayed at the art gallery include Henri Matisse, with 20 pictures, and Alberto Giacometti, the Swiss sculptor, with various of his bronze sculptures.
For art lovers
If you'd like to discover Pablo Picasso's masterpieces, then the Berggruen Museum is the place to visit. If, on the other hand, you are not very keen on the previously mentioned artists, we suggest you discover different museums, since Berggruen Museum is one of the most expensive galleries in Berlin.
In front of the Berggruen Museum is the Scharf-Gerstenberg Collection. Don't forget that the entrance ticket gives you access to both collections.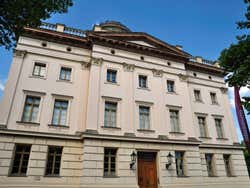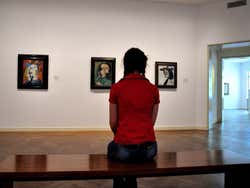 Schedule
Tuesday - Friday: 10am to 6pm
Saturdays and Sundays: 11am to 6pm
Mondays: closed
Price
Adults: € 10 (US$ 10.70)
Students: € 5 (US$ 5.40)
Museum Pass Berlin: free entrance. 
Transport
U-Bahn: Richard-Wagner-Platz, line U7; Sophie-Charlotte-Platz, line U2.
Train: Westend, lines S41, S42 and S46.
Bus: Schloss Charlottenburg, lines M45 and 309; Luisenplatz / Schloss
Charlottenburg, line 109.