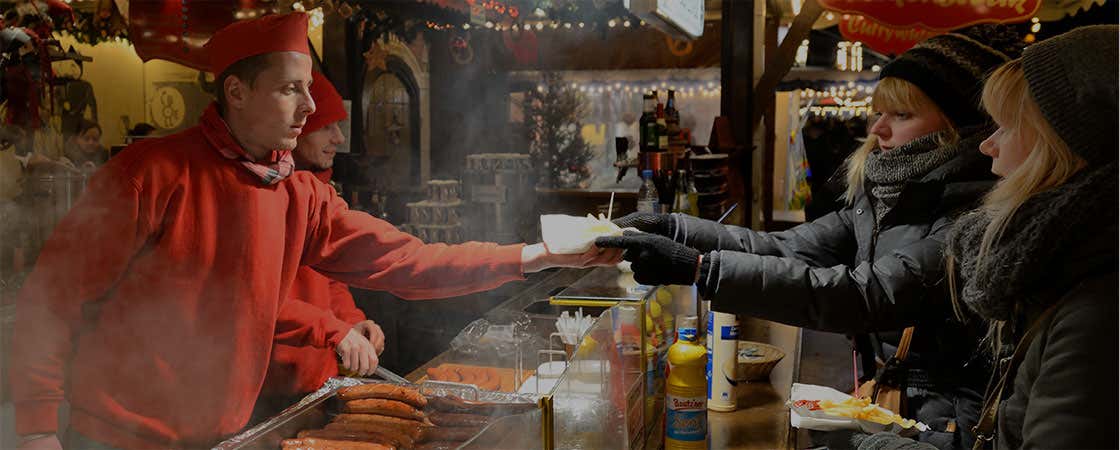 Best places to eat in Berlin
Typical German cuisine is normally quite satiating and high in calories. It usually includes basic ingredients, giving more importance to the quantity than the dish's presentation.  
Even though you'll probably leave Berlin weighing a few more kilos, it will have been worth it, since the dishes are normally delicious and varied.
The most famous ingredient of the German cuisine is the sausage and it is also one of the principle sausage producing countries. Every region has its own specialty, of various colors and sizes; the Frankfurts are mild, the Nurembergs are always roasted, and the Bavarians are light-colored. There are approximately 1,500 different types of sausages in Germany.    
Typical dishes in Berlin
It is always a good idea to write down the traditional dishes of a country when you travel. Here is a list of Berlin's most famous food:
Currywurst: cut up mild sausage covered in a delicious curry sauce and accompanied by chips.
Eisbein: Pickled ham hock served with mashed potatoes and sauerkraut.
Döner Kebab: Berlin has a large Turkish community and they have imported their Turkish kebab, which is seasoned meat wrapped in bread with salad and various sauces.
Boulette: fried meatball with parsley and onion.
Kasseler: Pork that has either been smoked or salted.
Schnitzel: Veal steak (specialty from Vienna).  
Kartoffelsalat: potato salad.
Rollmops: rolled up herring fillets.
Aal Grün: Eel with herb sauce and potatoes.
Strammer Max: Toast with butter, bacon and a fried egg.
Berliner Pfannkuchen: Jelly donuts
Apfelkuchen: apple cake
Käsekuchen: cheese cake.
German beers
Altbier: This dark-colored beer is usually from around Düsseldorf and uses an ancient fermentation method called top-fermented. 
Berliner Weisse: Sweet and white beer style with an unclear color.
Bockbier: strong beer with 6% alcohol.  
Kölsch: mild and white beer with 4,8% alcohol.
Weizenbier: Slightly fruity flavored wheat beer.
Pilsen: bitter flavored white beer.
Currywurst
Berlin's most popular dish is the currywurst. The currywurst is a cut up fried pork sausage, served with a ketchup and curry sauce and chips.
The currywurst is so notorious that most restaurants and street stands sell it in Berlin and you'll see both tourists and government officials eating them happily. Naturally, there is a museum on the famous sausage dish called Deutsches Currywurst Museum.
Prices
Berlin is a relatively cheap city when it comes to food and offers a multitude of gastronomic options for all types of budgets.  
If you don't wish to spend a lot of money on food and don't have a lot of time, Berlin offers a great selection of fast-food restaurants. You can either eat a filling kebab, a bowl of noodles, a currywurst or any other type of sausage dish. These dishes cost between € 3 (US$ 3.20) and € 5 (US$ 5.40).
Berlin is also full of street food vendors that walk around selling sausages. These vendors are called "Ich bin ein Berliner", and have a grill hanging from their shoulders where they cook the meat.
If you prefer to eat lunch or dinner in a restaurant, you can easily find a menu for around € 35 (US$ 37.70) – € 40 (US$ 43.10) for two.
Average lunch and dinner time
Berliners tend to have lunch and dinner quite early, like in most northern European countries. Restaurants normally serve lunch between midday and 2 pm and restaurants usually open at 6 pm for dinner.
Berlin is an extremely cosmopolitan city and a lot of restaurants have their kitchens open all day long.
Where to Eat in Berlin
The capital of Germany is packed with varied restaurants. Some of the liveliest areas are Nikolaiviertel, with typical German restaurants, and Alexanderplatz that houses all types of establishments serving food and drinks.
Another local favorite is Simon Dache Strasse, which offers a great variety of inexpensive restaurants. The closest U-Bahn station is Frankfurter Tor.
If you prefer to eat international food, then we suggest you head to the Jewish Quarter.