Kaiser Wilhelm Memorial Church
Bombed during World War II, the remains of the original Kaiser Wilhelm Memorial Church were integrated into the new Memorial Church, completed 1961.
The Kaiser Wilhelm Memorial Church (Gedächtniskirche on Kurfürstendamm) is a Romanesque Revival styled church which was designed by the German Emperor Wilhelm II in honor of his grandfather Wilhelm I. The original temple built in the 1890s was not one of the most prominent churches in Berlin.
In 1943, the air raids wrecked the church. In 1950, the Allies planned to demolish the whole temple, but the West Germans protested and finally a new church was designed. However, the citizens protested again, and it was finally decided to integrate the ruined church into the new temple.
The demolished and blackened Gedächtniskirche recalls the madness of war. Inside, a small exhibit displays some photos of the recently devastated building.
New Church
The new church has a modern chapel (called New Church) with blue windows that reflect a beautiful light in its interior.
The rear of the building houses an octagonal edifice with blue-colored windows, built as a bell tower in 1960. It is now a souvenir store.
The Berliners have nicknamed the church "hollow tooth".  
A very special memorial church
The Kaiser Wilhelm Memorial Church is currently one of the most compelling landmarks in Berlin. Its peculiar ruined spire is both charming and sad at the same time and transmits its objective perfectly: to remind all its visitors of the damages caused by a war.
The church is located at one extreme of the Kurfürstendamm, one of Berlin's most important thoroughfares, along with Unter den Linden.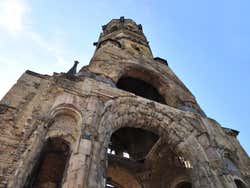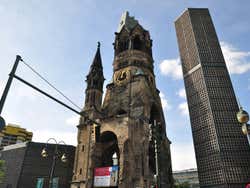 Schedule
Every day: 9am to 7pm. 
Transport
U-Bahn: Kurfürstendamm, lines U1 and U9; Zoologischer Garten, lines U2 and U9.
Train: Zoologischer Garten, lines S5, S7, S9 and S75.
Bus: líneas M19, M29, M46, X9, X10, X34, 100, 109, 110, 145, 200, 204 and 245.