Topography of Terror in Berlin
With a section of the intact Berlin Wall, the Topography of Terror is an interesting history museum housed in the former Gestapo and SS headquarters between 1933 and 1945.
History
During Nazi Germany, the neo-baroque building that once stood on Niederkirchnerstraße was transformed into the Gestapo and SS headquarters in 1933. The Gestapo was the regime's Secret State Police and the SS (Shutzstaffel) was a Nazi paramilitary organization. The citizens that showed signs of opposition were sent to the headquarters and interrogated and tortured in the basement of the edifice.
The documents and photographs on display at the Topography of Terror depict the sordid past of the repression instruments used by the Nazi party.
Visit for several hours
This history museum is especially attractive for those interested in history. However, the museum is quite large, and visitors need at least a couple of hours to explore it and read the texts that accompany each photograph.
Luftwaffe building
During the aerial bombings of Berlin, the headquarters were practically destroyed. The only building standing was the Ministry of Aviation (Luftwaffe building). Was it because of secret information related to the building and its content? Were prominent allies imprisoned in Luftwaffe? It is still unclear.
The Luftwaffe Building is the large block that is next to the Topography of Terror and that you can see in one of the photos of the article.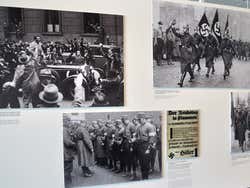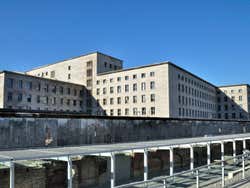 Schedule
Every day: 10am to 8pm.