The imposing neoclassical building that houses the Altes Museum, next to Berlin Cathedral, features a collection of classic antiquities that will transport visitors back 300 years.
The Altes Museum is accommodated in a neoclassical building constructed between 1823 and 1830, which is considered one of the most relevant neoclassical edifices in Berlin. During World War II, it was badly damaged by the air raids. The construction was restored from 1951 to 1966.
Antiquities collection
The Berlin Altes Museum, meaning Old Museum in English, features items from Antiquity, including Ancient Greece and Rome that were found by German archeologists for the Berlin State Museums.
Most of the Museum is dedicated to the Classical antiquity of Greece with a collection of appealing bronze, clay and stone sculptures. There are also numerous vases and jewelry made of gold and silver. There are also beautiful Roman objects like portraits of Julius Caesar, tombs and works of art.
Tuvo su momento de gloria
Declared a UNESCO World Heritage site, the Altes Museum building is a grandiose landmark worth discovering. Although it was designed to house Berlin's fine art collection, nowadays it only features a large collection of antiquities and the Neues Museum houses an Egyptian and Prehistory collection.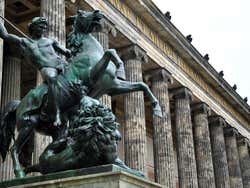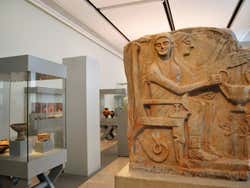 Schedule
Tuesday - Sunday: 10 am to 6 pm
Mondays: closed 
Price
Adults: € 10 (US$ 10.70)
Students: € 5 (US$ 5.40)
Museum Island: € 18 (US$ 19.30) (students: € 9 (US$ 9.60))
Museum Pass Berlin: free entrance. 
Transport
U-Bahn: Friedrichstraße, line U6.
Tren: Friedrichstraße, lines S1, S2, S5, S7, S9, S25 and S75.
Bus: Straatsoper, line TXL; Lustgarten, lines 100 and 200; Friedrichstrasse, line 147.