Gendarmenmarkt is one of the most splendid squares in Berlin. Founded during the twelfth century, it houses the Konzerthaus and the German and French Churches.
The name Gendarmenmarkt dates from 1799 and comes from when the stables of the Cuirassier Regiment "Gens d'Armes" were located in the square.
Twin churches
The square is flanked on both sides by two identical Baroque-styled churches with an impressive tower and dome.  
The French Church (Französischer Dom) is located on the north side of the precinct. It was designed by the Huguenot community (French Protestants) who moved to the city at the beginning of the eighteenth century. It is the first church to be built in the square.
In 1708, the German Lutheran community established a temple on the south side of the square. The German Church (Deutscher Dom) is very similar to the French Church. Nearly eighty years later, in 1785, a similar tower and dome to the French Church were added to the German Church.
The Deutscher Dom was gravely damaged during World War II. In 1980 it was transformed into an art gallery and in 1996 it was remodeled into the Bundestag's Museum.
The museum houses various exhibits that reflect the Revolutions of 1848, Nazi Germany and East Germany.
Between the two churches is the Konzerthaus (concert hall). It is home to the German orchestra. Constructed between 1818 and 1821, it was demolished practically completely during the Second World War and was restored in the following years.
Better outside
Visitors can climb to the top of the French Church's dome but, in our opinion, it isn't worth buying the ticket because the views are a little disappointing, especially compared to the perspective from the Cathedral.
Moreover, from our perspective, the exhibitions at the Deutscher Dom are not all that worthwhile.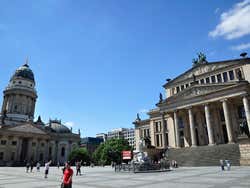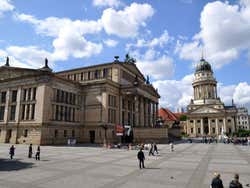 Transport
U-Bahn: Hausvogteiplatz, line U2; Französische Straße, line U6.