The Television Tower (Fernsehturm), standing 368 meters tall, is the highest structure in Germany. Its observation deck offers the most impressive views of Berlin. 
The Television Tower (Fernsehturm in German), opened to the public in 1969, was the pride of the German Democratic Republic for years. The tower was designed to demonstrate the power of communism and as a symbol of East Berlin.
Built in the centre of Alexanderplatz, the most prominent square in East Berlin at the time, measured 368 meters high.  
At the top of the tower, 200 meters high, is a steel framed sphere covered in glass that curiously forms a cross when the sun shines on it, especially during the morning. This phenomenon was called by the West Berliners "Pope 's Revenge", undermining the Communist propaganda.
The best views of Berlin
Although Berlin has numerous observation decks throughout the city, the views from the highest viewing platform in Berlin are absolutely stunning.
The observation deck is located 203 meters high and offers breathtaking panoramic views of the various landmarks and the former Communist side of Berlin.
For your convenience, you can buy your ticket directly through the following link:
The Tower also has a bar (Bar 203) and a Sphere revolving restaurant. The restaurant is located above the observation deck and provides typical German dishes, the price is not excessive. You can see all the details and book by clicking on the following link: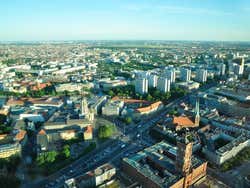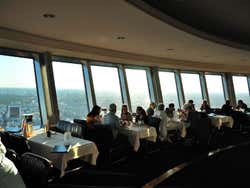 Schedule
March - October: every day from 9am - midnight.
November - February: every day from 10am - midnight. 
Transport
U-Bahn: Alexanderplatz, lines U2, U5 and U8.
Train: Alexanderplatz, lines S5, S7, S9 and S75.
Bus: Alexanderplatz, lines TXL, M48, 100, 200 and 248.
Tram: M4, M5 and M6.