Reopened in 2006, the Bode Museum on the Museum Island in Berlin, houses an interesting and unusual collection of statues, coins, medallions and Byzantine art. 
The Bode Museum was initially inaugurated on Museum Island in 1904 as Kaiser-Friedrich-Museum. It contained a pictorial collection of the Christian era.
The Bode Museum is adjacent to the Pergamon Museum, the Alte Nationalgalerie, the Neues Museum and the Altes Museum.
Damaged during WWII
The Bode Museum was badly damaged by the air raids of the Allied forces at the end of the Second World War. Between 1948 and 1986, the building suffered important repairs. In 1956, the museum was renamed after Wilhelm von Bode in 1956.
It was then closed between 1997 and 2006 for further renovations. Nowadays, the museum houses a collection of Byzantine art, sculptures, coins and medals.
Exploring the Bode Museum
The highlight of Bode Museum is its sculpture collection, which is considered one of the biggest in the world. The Byzantine Art collection is also quite interesting with artworks from Late and Byzantine antiquity.
The second floor accommodates the numismatic collection. It has more than half a million objects and is one of the most important coin collections in the world.
There are over 4,000 coins and medals on display that show how society has evolved from the sixth to the twenty-first century.
Quite interesting
The Bode Museum houses an important collection; however, if you are only in Berlin for a few days, we recommend visiting the most-visited museums, like Pergamon Museum and Neues Museum first.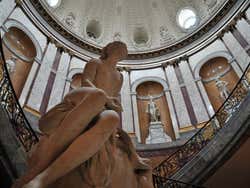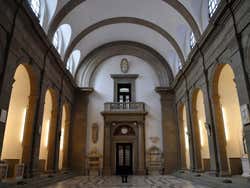 Schedule
Tuesday - Sunday: 10 am to 6 pm
Mondays: closed 
Transport
U-Bahn: Friedrichstraße, line U6.
Train: Friedrichstraße, lines S1, S2, S5, S7, S9, S25 and S75.
Bus: Straatsoper, line TXL; Lustgarten, lines 100 and 200; Friedrichstrasse, línea 147.