Memorial to the Murdered Jews of Europe
The Memorial to the Murdered Jews of Europe, also called the Holocaust Memorial, is an architectural gem made up of 2,711 concrete blocks in Berlin. It commemorates one of the saddest episodes of WWII.
Established near the Brandenburg Gate between 2003 and 2005, the Holocaust Memorial ("Denkmal für die ermordeten Juden Europas" in German) in the capital of Germany hopes to challenge the notion of a monument in itself.
The grid shaped memorial has 2,711 concrete slabs of various heights, all placed near each other, creating numerous passageways where visitors can walk around and enter and exit the Memorial from anywhere.
The information center is located underneath the monument, on the south-east side.
Information center
The Information Center introduces its visitors to the National Socialism led by Adolf Hitler and the extermination policies carried out between 1933 and 1945.
Next, tourists will be able to read the Holocaust testimonies of numerous persecuted Jews and learn about the stories of various families before, during and after the torment.
Visitors will then step into one of the most shocking rooms, an empty hall with its walls covered with the names and dates of birth and death of the Jews locked up in the concentration camps during the Second World War.
Reading the names and biographies of the victims could last over 6 years.
Difference of opinion
The Holocaust Memorial causes a great diversity of opinions among locals and foreigners. For some, the experience is a must and walking along the growing concrete slabs is hair-rising. For others, the monument is slightly ugly and not worth discovering. 
In our opinion, the Memorial to the Murdered Jews of Europe is worth visiting at least once, so you can make your own opinion about whether you find it memorable or not.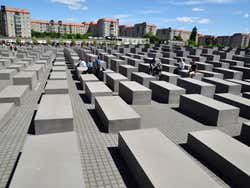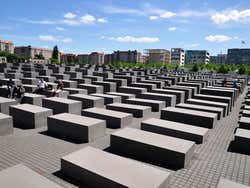 Schedule
Monument: open 24h a day
Information center
April - September: Tuesday to Sunday: 10am - 8pm.
October - March: 10am - 7pm. 
Transport
U-Bahn: Potsdamer Platz and Mohrenstrasse, line U2.
Train: Unter den linden and Potsdamer Platz, lines S1, S2 and S26.
Buses: lines 100, 123, 148, 200, M41 and TXL.