Alte Nationalgalerie in Berlin
The Alte Nationalgalerie, meaning Old National Gallery in English, is a nineteenth century art museum housed in a striking neoclassical building founded in 1876.
Interior
As a sector of the Berlin National Gallery, the Old National Gallery features a collection of art from the nineteenth to the twenty-first century. The second-floor hold realist paintings and sculptures, as well as several works of art by the renowned German painter Adolph Menzel.
On the third floor, an atrium decorated with statues gives way to following rooms that display works by the so-called Deutsche-Romer (German Romans) from the beginning of the nineteenth century and French Impressionism. Some of the most prominent artists located on this floor are: Max Lieberman, Karl Friedrich Schinkel, Caspar David Friedrich and Carl Blechen.
Ideal for art fans
Situated in the Museum Island, in an imposing neoclassical building, the Alte Nationalgalerie is truly magnificent from outside. The collection is also very interesting if you're a connoisseur of art. If not, you might prefer other museums.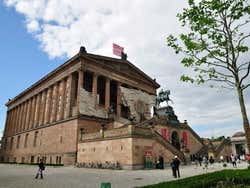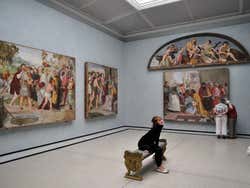 Schedule
Tuesday - Sunday: 10 am to 6 pm 
Mondays: closed
Price
Adults: € 10 (US$ 10.70)
Students: € 5 (US$ 5.40)
Museum Pass Berlin: free entrance. 
Transport
U-Bahn: Friedrichstraße, line U6.
Train: Friedrichstraße, lines S1, S2, S5, S7, S9, S25 and S75.
Bus: Straatsoper, line TXL; Lustgarten, lines 100 and 200; Friedrichstrasse, line 147.